Death, destruction, decay and bioterrorism - could it be both a fun game and NIN concept album? oooooooooooooohhh yes, virginia.
To promote the upcoming release of Nine Inch Nails (NIN) "Year Zero" album, 42Entertainment "may have" (they won't confirm) launched an Alternate Reality Game (ARG). From the Makers of "I Love Bees" comes an interconnected string of dark digital experiences that paint a pretty bleak picture (NIN? bleak? shocker)
Apparently, if you picked up NIN's current european tour tshirt and decoded the back (seen here)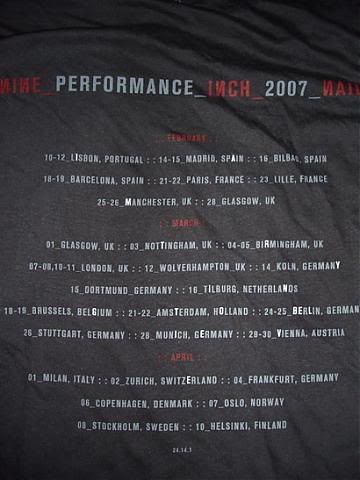 ...you were not only CLEARLY scoring the finest threads on the planet, you were also getting the first link in the "Year Zero" ARG immersion experience. Light hearted NIN fans at http://www.echoingthesound.org have been connecting the twisted digital dots ever since.
Here's an excerpt (yes, only an excerpt) of what they've discovered so far (as of Sunday night)
--------[ http://www.echoingthesound.org/phpbbx/viewtopic.php?t=20265 ]------------
1. http://iamtryingtobelieve.com/
first site discovered, about this Parepin drug.
2. http://anotherversionofthetruth.com/
On first glance, this is nothing more than simple, smiley propaganda. [but]...click and drag [to reveal] new text [and] a link...to a message board in which citizens of this particular setting are discussing many things about society...[three] audio files have been revealed so far:
opalo.mp3, discussing this Opal drug
ballgameOver.mp3, taken from the point of view of an "angry sniper." This angry sniper is most likely the same sniper found on Consolidated Mail Systems' site, as well as Be the Hammer. Keith from the IRC channel has kindly transcribed all of the chatter in this file, and the complete bit of info can be found here.
nohurry.mp3, detailing a police raid and showcasing the REAL truth behind it.
3. http://bethehammer.net/
A resistance site, linked to at the anotherversionofthetruth.com message board. This is pretty much open to interpretation as nobody seems to have any hard evidence [...]It is worthy to note that, as stated above, the author of this website seems to be the same angry sniper in the audio clip as well as the CMS website...
4. http://105thairbornecrusaders.com/
"Soldiers of Rupaul under the US flag" Not much is known about this site as of yet. The angry sniper claims to be a sniper who served the 105th Crusaders.
5. http://churchofplano.com/
Not much is known about this site of yet, either. cynicmuse lets us know that the Church of Plano is a New Evangelical Church; one congregation of the New Evangelical Church donated land for the first base of the 105th and another took care of Fort Paul during a deployment. The Church of Plano is also a sola scriptura organization (thanks SecretlyFabulous!).

6. http://www.consolidatedmailsystems.com/nooneimportant/
...Site for what must be the main mail service of society (perhaps). It features a description of Opal stolen from a police officer and his reference handbook, as well as numerous crude drawings, including one of the Presence. It is definitely worthy to note that the page reads "ANGRY SNIPER sent you this message on Thursday, Feb 10, 0000." The title "angry sniper" is most likely a reference to the sound clip that features an angry guy shooting people with a sniper rifle. At the bottom of the page is a footnote, talking about a site called Opalescent Haze. Hmm... Interestingly, if you try to click any link on this page, it gives you a warning:
WARNING CODE 24.10.4 (All page functionality disabled): You are not the citizen assigned to this account. Close this window immediately and stay where you are. Authorities will be in contact shortly for appropriate reeducation.
7. http://www.consolidatedmailsystems.com/citizen_unknown/
Ironically, one cannot enter the site if you are an "unknown citizen," but "no one important" is able to enter freely to view a detailed drug description from an officer reference handbook.

8. http://www.uswiretap.com/case_number_required/
AND
9. http://www.uswiretap.com/71839J/
[These sites were discovered] through the phone number revealed to us in a spectrograph image of 2432.mp3, a file that was contained inside the .rar that "Me, I'm Not" came in. Calling this number revealed a downright scary conversation. The phone conversation can be heard in links found here, or by calling the number ' 216.333.1810 ', which is found in the 2432.mp3 file as well as on the text of the actual site.

10. http://www.artisresistance.com/
This seems to be a page detailing resistance using art. According to the thread that links to the site, World War Three has already happened. The website itself has stencils, wallpapers, and forum avatars for download. Also, this flyer has been found.

NEW!
11. http://www.hollywoodinmemoriam.org/
- This one was found through this image, found along with "In This Twilight" on a USB thumb drive. Not much is known so far.
-------------[end echoingthesound.org excerpt]----------------------------
and it spreads and spreads. what gets really interesting is that once this enters the digital space, its pretty tough to tell what is real and what isn't, what is created for the ARG, and what is created by its "players".
Here's an audio clip (via youtube) that'll curl your whiskers...
I'd like to remind y'all: All this is for an album release. Unless it's really real. In which case we're all doomed to dress, look and act like Trent Reznor.