We've been talking for a week about simple, human truths, and their power to connect us.
But nothing prepared me for Unboxing.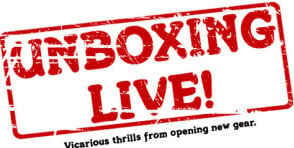 People order stuff. They take it out of boxes. They film it. They post it. People watch it.
Welcome to MerchPorn.
A YouTube search of "unboxing" yields 194 videos. Of people taking things out of boxes.
The first 20 have generated over 500,000 plays. Of people taking things out of boxes.
This one for PS3 has generated over 160K plays. Watch and be amazed.
Not enough for you? Hungry for more? Visit one of the two websites dedicated to "Unboxing", featuring raw, uncut unboxing video you won't believe.
or go visit the Unboxing Group on Flickr.
or if you can't be without unboxing on the road, download the video podcasts from iTunes. Yes, they are there.

"....aaaaaaahhh...sure unboxing is the hottest thing since sliced bread. Now that I've unboxed my Kyocera PalmOS, I'm bored. I have some surgical tubing and a cement wall. What can I do?"
Glad you asked: